Pick up:
Oficina Bulevar 22-02-2020 10:30
Return:
Oficina Bulevar 22-02-2020 18:30
Ford Focus or similar
44,00€ x 1 days
44,00€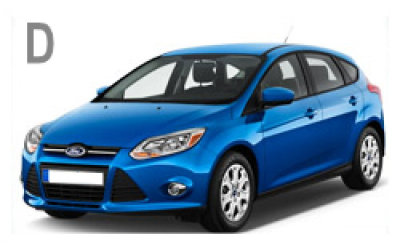 Característics: 5 doors, radio CD, AC ...
Capacity: 5 people, 2 suitcase.
Rental price includes free km and full insurance without excess
Minimum age 25 years
Young Driver" Supplement between 21 and 24 years of 10 € / day
Autos Balears Rent a Car
Not covered by insurance:
It is the resposibility of the renter the following cases of loss or damage:
Loss or damage to keys

All Costs caused due to wrong type of fuel being administered to the vehicle

Towing Service (only when the client incurs in negligence that is not covered by insurance.)

Damage to clutch
Traffic Fines
Rent a car Autos Balears charges an administrative fee of 25 Euros (VAT included) to the client when we receive a traffic ticket. Rent a car autos balears is obliged by law to provide information of the rente to the authorities in case of a traffic fine.
This fee does not include the payment of the traffic fine; The customer must pay the authorities directly.
Restrictions
Vehicles can not be taken abroad or between islands.

The insurance does not cover, in any case, accidents or damages caused to the vehicle by driving under the influence of alcohol, drugs, medications or any other substance that reduces the driver′s ability, or when the driver is not one of the authorized drivers in the contract, or even so, if the damages occur due to breach of what is established in the contract or the basic traffic regulations.

The transport of goods or animals not allow
Standard or extreme cleaning
The rental price includes a standard cleaning of the vehicle, however, if the vehicle is returned extremely dirty, Autos balears will be forced to charge € 95 for special cleaning.
Late return of the vehicle
If the vehicle is returned later than the date agreed in the lease, the insurance will be invalidated, and the customer will be responsible for payment of € 30 per day (VAT included). In addition to this payment, the customer will also be responsible for paying the daily rental rate.
De conformidad con lo establecido en la normativa vigente en Protección de Datos de Carácter Personal,le informamos que sus datos serán incorporados al sist
ema de tratamiento titularidad de MAHCIU SL con CIF B07283732 y domicilio social sito en CL EUCALIPTUS 7 07160, PAguera (ILLES BALEARS), con lafinalidad de atender los compromisos derivados del contrato suscrito entre ambas partes. En cumplimiento con la normativa vigente, MAHCIU SL informa que los dat
os serán conservados durante EL PERIODO LEGALMENTE ESTABLECIDO.la presente cláusula queda informado de que sus datos serán comunicados en caso de ser necesario amadministraciones públicas y a todas aquellas entidades con las que sea necesaria la comunicación con la finalidad de cumplir con la prestación del servicioanteriormente mencionado.El hecho de no facilitar los datos a las entidades mencionadas implica que no se pueda cumplir con la prestación
de los servicios objeto del presente contrato.A su vez, le informamos que puede contactar con el Delegado de Protección de Datos de MAHCIU SL,dirigiéndose por escrito a la dirección de correo dpo.cliente@conversia.es o al teléfono 902877192.MAHCIU SL informa que procederá a tratar los datos de manera lícita, leal, transparente, adecuada, pertinente,limitada, exacta y actualizada. Es por ello que MAHCIU SL se compromete a adoptar todas las medidas razonables para que estos se supriman o rectifiquen sin dilación cuando sean inexactos.De acuerdo con los derechos que le confiere la normativa vigente en protección de datos podrá ejercerlos derechos de acceso, rectificación, limitación de tratamiento, supresión, portabilidad y oposición al tratamiento desus datos de carácter personal así como del consentimiento prestado para el tratamiento de los mismos,dirigiendo su petición a la dirección postal indicada más arriba o al correo electrónico
AUTOSBALEARS@HOTMAIL.COM.Podrá dirigirse a la Autoridad de Control competente para presentar la reclamación que considere oportuna.En último lugar, MAHCIU SL informa que con la firma del presente documento otorga el consentimiento explícito para el tratamiento de los datos mencionados anteriormente.